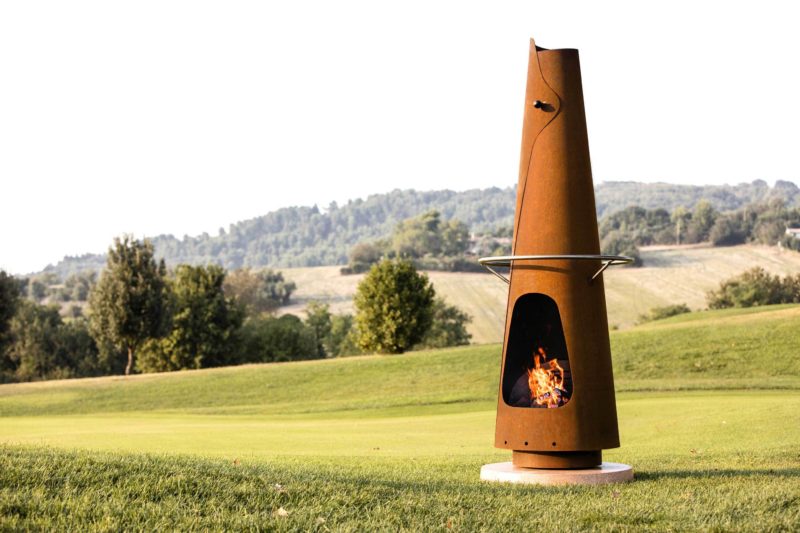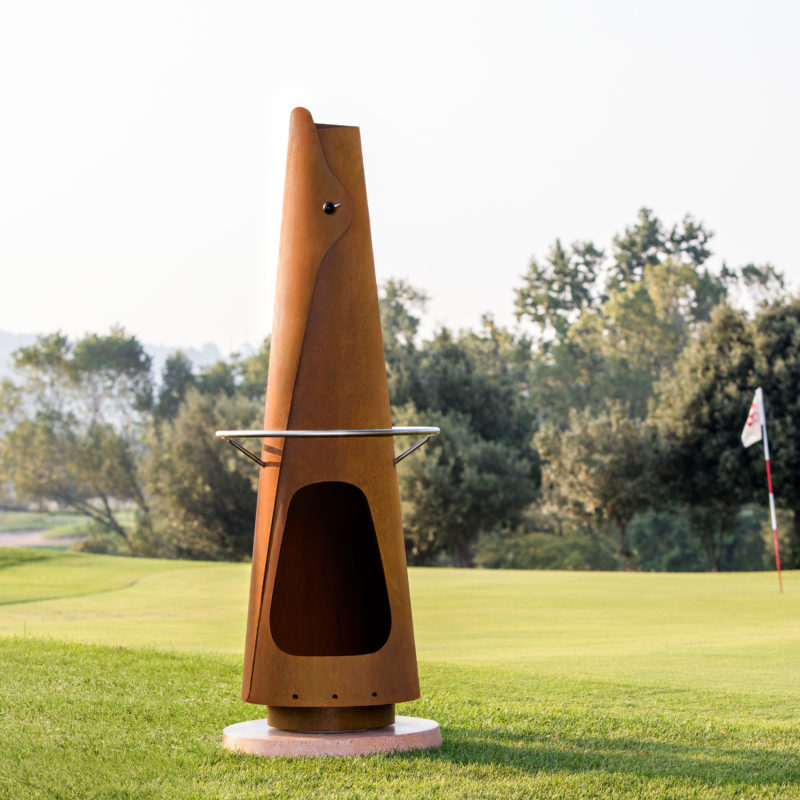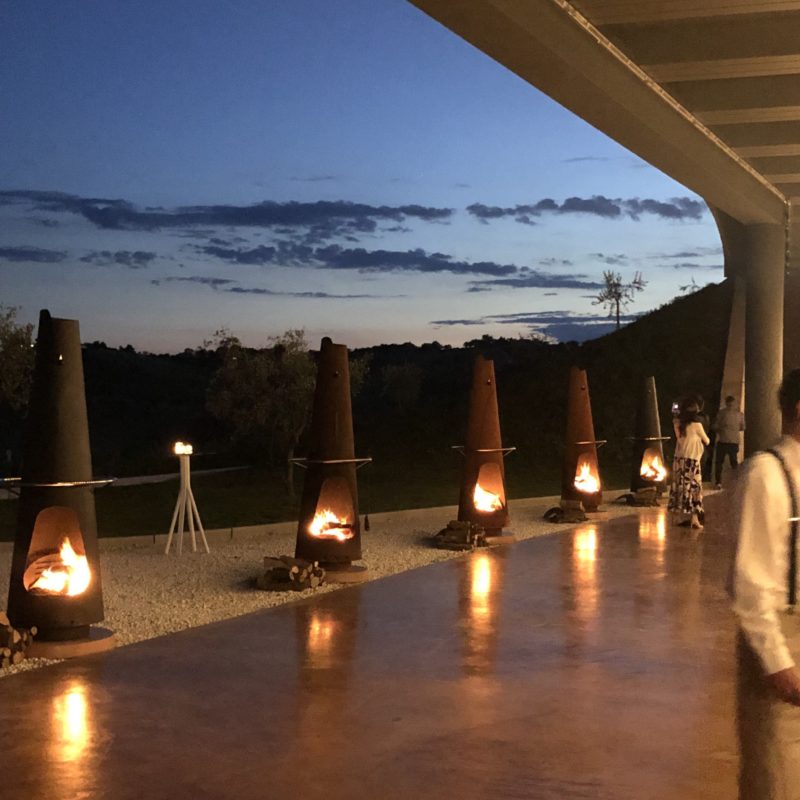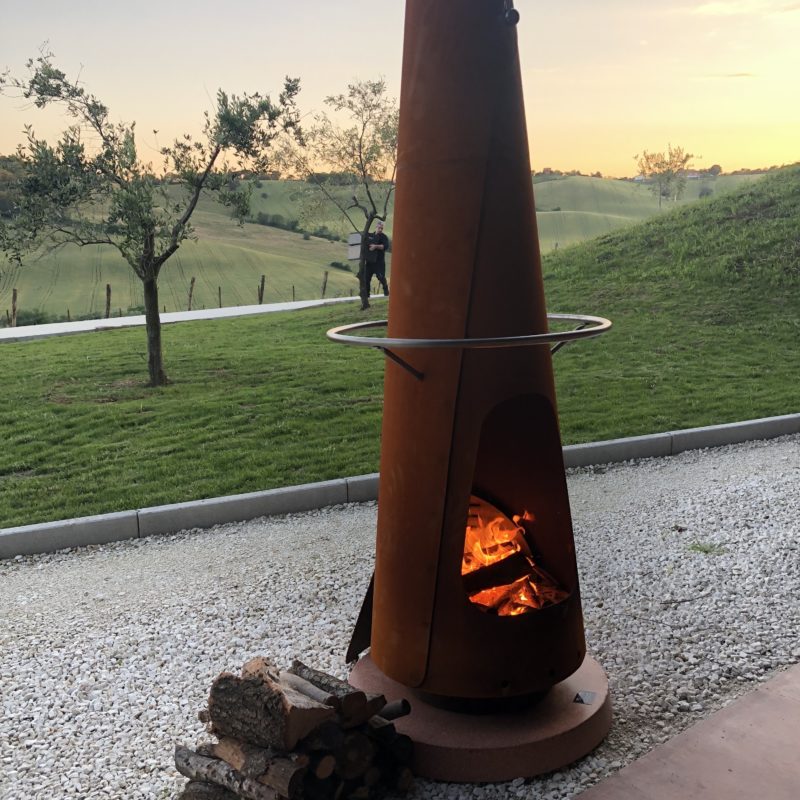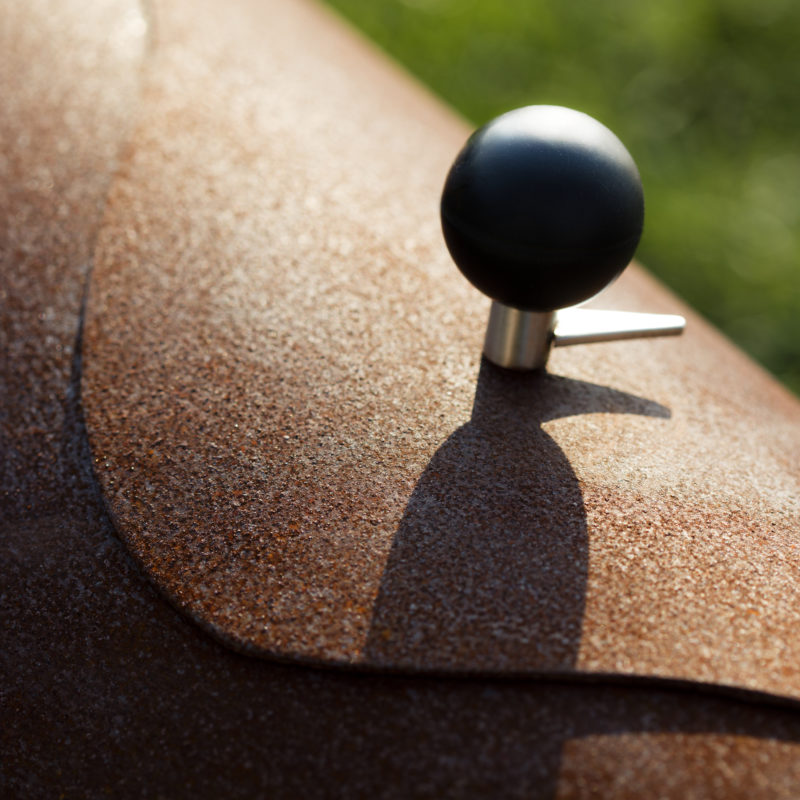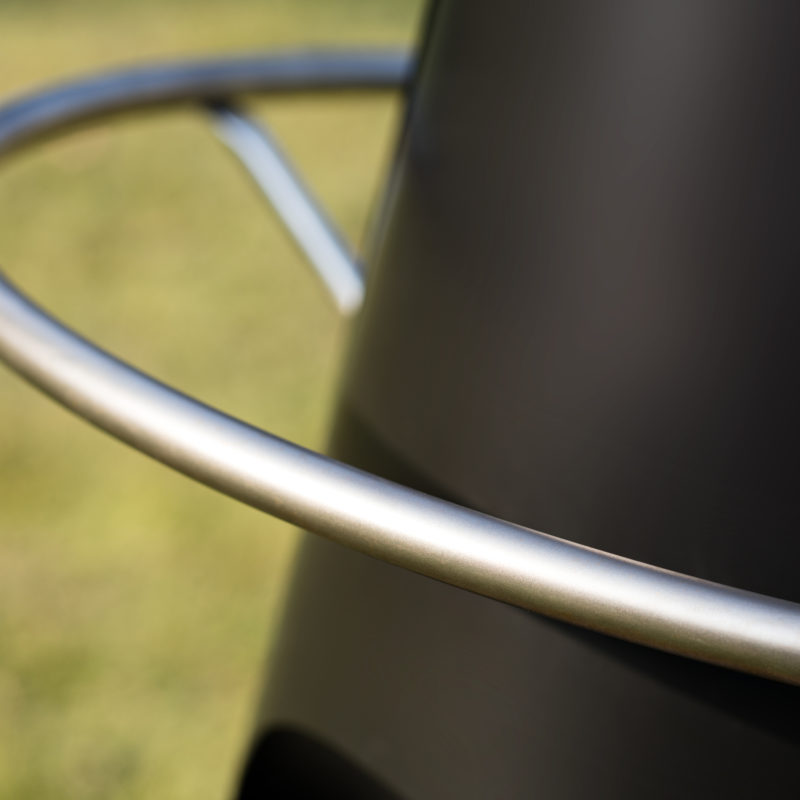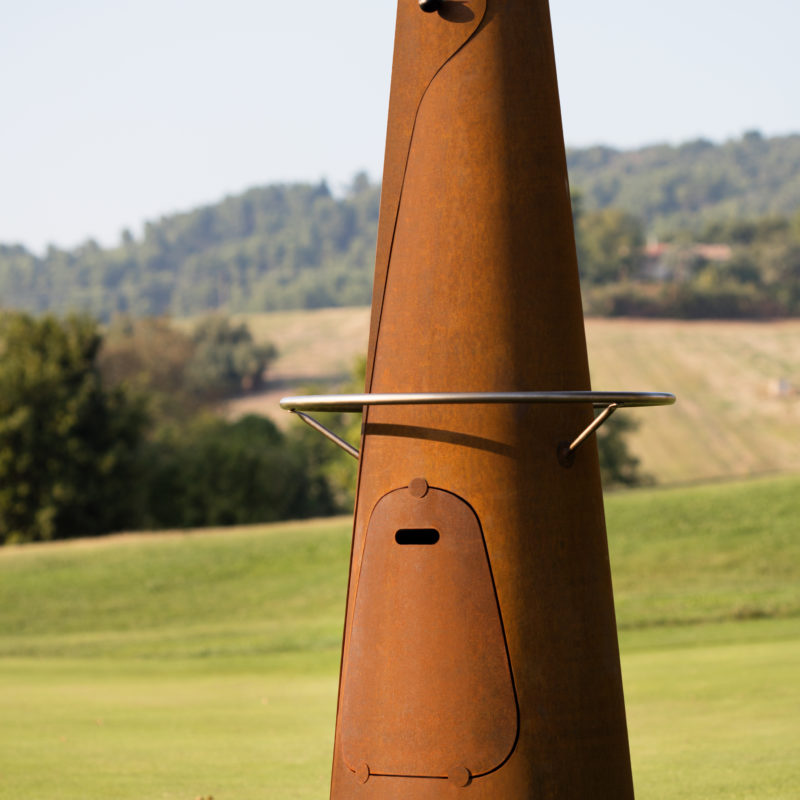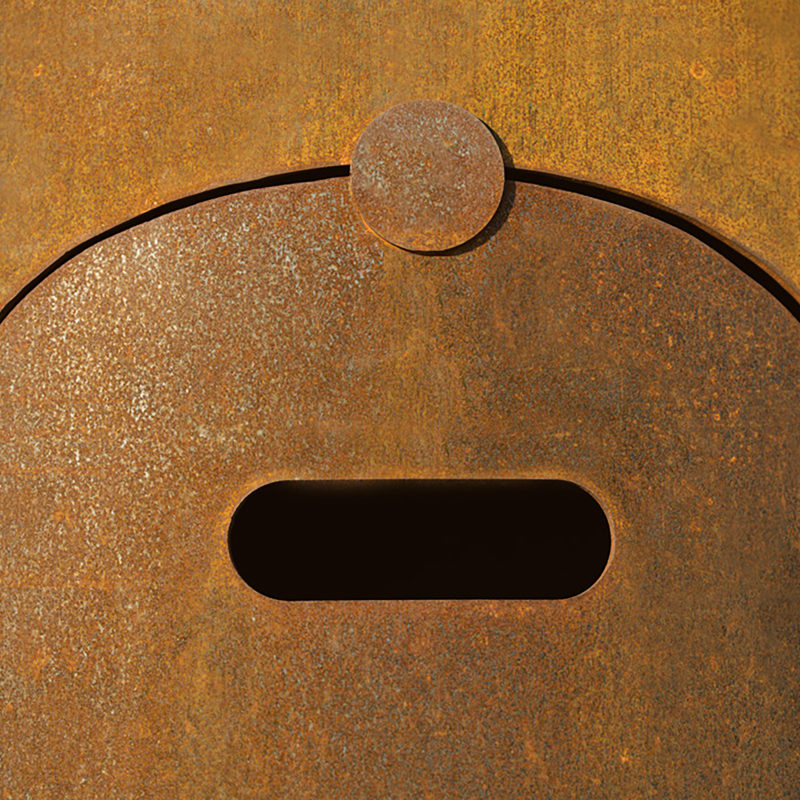 External metal sheet
Base plate
Product details
Chimney structure: Core-ten steel
Fireplace compartment: Referee stone
Fireplace grill: Cast iron
Ash drawer: 20x20x150 (h) cm, Painted Steel
Fuel:Wood
Installation: Dry exterior
Width: 74 cm
Depth: 74 cm
Height: 213 cm
Weight: 210 kg
Packaging: 80x80x230 (h)
Cor-ten fumotto
Cor-ten wood-burning fireplace / barbecue
Base (ø 74cm)
---
Fumotto is an adjustable wood-burning fireplace to be positioned with maximum freedom in outdoor environments.
The fireplace rotates on the colored stone grit base to obtain the best positioning, orienting it for the best wind conditions.
Constructively conceived as a mantle that envelops the fire, conveying the fumes upwards in its collar, Fumotto is born from the shaping and processing of a single sheet of steel that turns into a fireplace.
A stainless steel tube handle becomes the grip that allows you to rotate the chimney, while a pin fastens the overlapping metal flaps, adjusting the fire through the bakelite knob that moves the valve for the drafting of the fumes and better management of the fire.
The ash discharge is facilitated by the extraction of a special removable steel ash drawer.
Fumotto is the fireplace in which structure and function come together in a single solution, transforming by means of a practical grill kit into a comfortable barbecue with refined shapes.
Fumotto is made in two metal types: in matt black painted steel or in Cor-Ten, a special steel material with great mechanical resistance and specificity against corrosion.
Selected by ADI Design Index 2016 , for its originality and functional innovation, the Fumotto fireplace-barbecue in 2018 also participated in the selection of the 25th Compasso d'Oro.
In addition, this fireplace-BBQ offers a series of optional and useful and refined accessories, including a wooden table to be placed on the stainless steel flywheel, to make its use and the experience of cooking with it even more practical and unique in the its kind.
ATTENTION: Correct maintenance is essential to keep the properties and functions of the product intact over time.
---
Details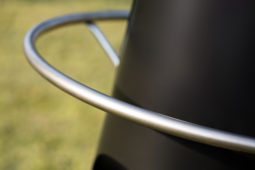 By means of the large, brushed stainless-steel handle, the fireplace can be rotated to the most suitable position even in unfavourable wind conditions.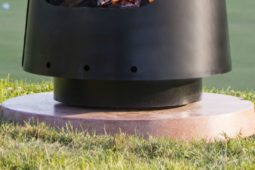 The base is made of cement grit, an elegant work of reconstructed stone available in two colours. A solid base for rotating the fireplace that requires no anchoring to the ground.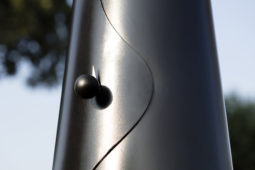 A pin connects the overlapping cloak flaps and adjusts fire intensity through a Bakelite knob that prompts the valve to draw up the fumes.
---
Accessories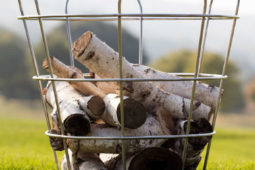 Legnotto is a log holder made of stainless-steel wire making up a curvy and essential container.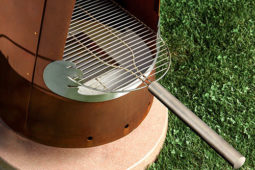 The barbecue kit can be easily installed by fixing a rear and a front firewall inside and outside the firebox in order to support a large stainless-steel rack.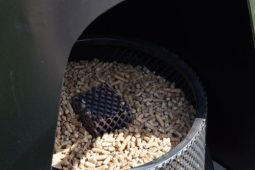 The unique micro-perforated basket to be placed inside the firebox allows Fumotto to be powered by pellets so as to guarantee a flame autonomy up to several hours.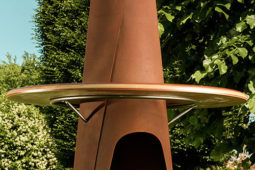 A table to be placed on the fireplace flywheel is an excellent base for every need.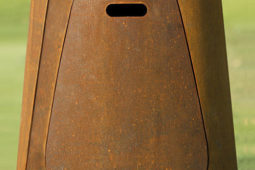 The metal hatch is made from the same worked sheet and is used to close the firebox for energy saving purposes.
LEGNOTTO - Firewood holder
Stainless steel
Legnotto is a log holder made of stainless-steel wire making up a curvy and essential container.